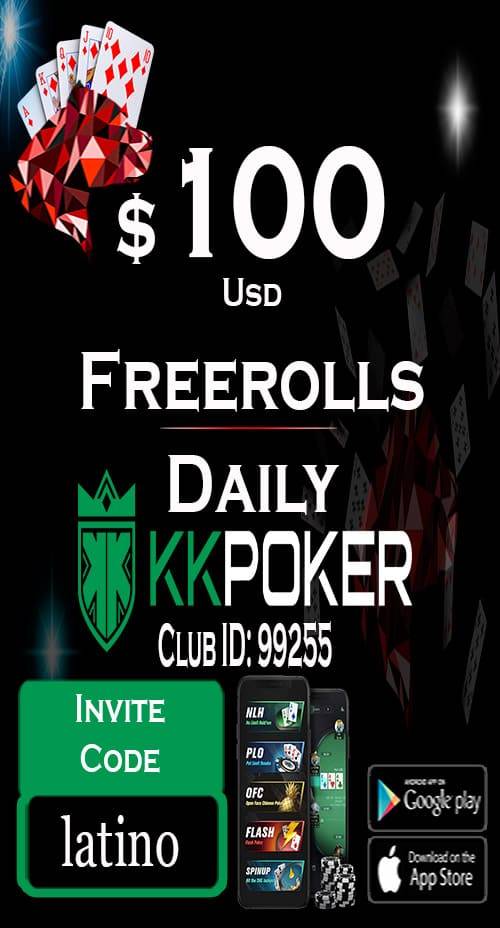 The App is for Real Money.

Poker Latinos welcomes you to KKPoker, one of the best places to enjoy the best online poker. When a player's account is added to a Club, it can no longer be added to any other.
To Join our Latino Poker Club please register with our links or add our Invitation code: Latino when you register at KKPoker or you will not be able to access our offers.
You will have access to our exclusive tables, as well as exclusive freeroll tournaments just for our members. If you wish you can register by clicking here >> Register and then download the App.
Enjoy the best Poker games, Cash Tables, SpinUp, Sit & Go, Big Tournaments and $ 10,000 Freerolls every month.
ENJOY VARIOUS POKER MODALITIES
NLH, PLO, OFC and more!
Play with us to explore a wide variety of poker games!
From classics to cutting edge, KKPoker offers poker games to take advantage of, including Texas Hold'em, PLO, 6+, and OFC, with exciting variations like Progressive, Final and Wild modes.
Get in on the action today!
TRIPLE ACTION TRIPLE FUN
Become a master of multi-tables
The multi-table function allows you to play up to three tables on your device at the same time!
To provide the best user experience, tables are automatically highlighted when it's your turn, so you can move on to the next action with just a swipe.
SAFE AND FAIR GAMING EXPERIENCE
Dedicated anti-cheat team!
KKPoker has a zero tolerance approach to unfair play, and will permanently disable accounts found to be violating the rules.
Anti-cheat mechanisms are implemented to ensure the detection of fraudulent behavior, with a team of experts monitoring the tables.
Enjoy safe and fair play at KKPoker every day!
Play the $ 100 Usd Freerolls every 2 hours totaling more than $ 1000 Usd daily in free tournaments.
Advantages of Playing at KKpoker¡¡¡
All chips are Real Money, the app is designed to only play Real Money games.
The money will only be managed by the player, nobody will be able to access the money of our players, including Club owners and Agents.
All players will be able to make transfers to other members of the Club.
Player-managed deposit and withdrawal methods.
Agents will be able to instantly withdraw their earnings per guest using their preferred methods, you can also consult with our representative to review alternative methods and facilitate the withdrawal of money from our users.
Automatic payments to Agents when their users finish playing a table or tournament.
Agents will be able to help your guests deposit and withdraw their winnings.
Join the KKPoker Latinos Club
Afghanistan
American Samoa
Australia and its territories
Bangladesh
Belgium
Brazil
Bulgaria
Cambodia
China
Colombia
Cuba
Czech Republic
Denmark
Egypt
Estonia
French Republic and its territories
Germany
Greece
Guam
Hong Kong
Iran
Iraq
Ireland
Israel
Italy
Jordan
Kenya
Kingdom of Bahrain
Kuwait
Lebanon
Libya
Macao
Malaysia
Mozambique
Myanmar(Burma)
Netherlands
Nigeria
North Korea
Northern Marianas Islands
Pakistan
Palestinian Territories
Portugal
Puerto Rico
Qatar
Romania
Rwanda
Saudi Arabia
Senegal
Singapore
Slovakia
Slovenia
South Africa
Spain
Sudan
Switzerland
Sweden
Syria
Taiwan
Tanzania
Turkey
United Arab Emirates
United Kingdom
United States of America
U.S. Minor Outlying Islands
U.S. Virgin Islands
Vatican City
Yemen
Zimbabwe